New Brunswick NJ Marijuana Lawyer
Drug Charges Defense Attorneys in Middlesex County, New Jersey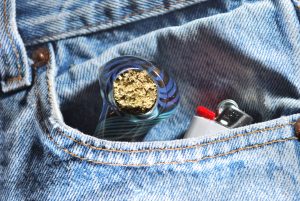 The vast majority of New Jersey marijuana crimes involve a small amount the narcotic, usually 3 grams or less. Our attorneys handle a large number of cases that involve motor vehicle stops during which marijuana is found stashed in the car. These cases are often accompanied by "companion" charges such as Possession of CDS in a Motor Vehicle and Drug Paraphernalia. A conviction for the possession of marijuana without a companion charge will result in a permanent criminal record, potential probation, and up to 6 months in county jail. At The Law Offices of Proetta & Oliver our attorneys defend clients against marijuana charges throughout Middlesex County, including New Brunswick, Piscataway, Rutgers University, Dunellen, Middlesex Borough, Spotswood, and Monroe. As founding attorney, Will Proetta, Esq., has handled a wide array of criminal and municipal charges, many of which involve possession of marijuana. To build a case strategy customized to meet your needs or simply speak with an experienced Middlesex County marijuana defense lawyer, contact our Edison Office at (732) 659-9600 for a free consultation.
N.J.S.A. 2C:35-10(a)(4) Possession Under 50 Grams of Marijuana
Marijuana is by far the most common drug in New Jersey. Therefore the scope of law that it is governed by is very broad. Marijuana charges can vary in severity depending upon the amount in possession, your intent to distribute, and whether not the possession or distribution occurs in a school zone or public park. The relevant part of the New Jersey statute for simple possession of marijuana is provided below for your convenience:
§ 2C:35-10. Possession, use or being under the influence, or failure to make lawful disposition
(4) Possession of fifty (50) grams of less of marijuana, including any adulterants or dilutants, is a disorderly persons offense.
Simply put, a marijuana charge of less than 50 grams is a disorderly persons offense – which is equivalent to a misdemeanor. As mentioned above disorderly persons offenses carry up to 6 months in jail but additional penalties apply because it is a drug related offense. For example, if convicted, you would face a two year of loss of driver's license and thousands in fines and mandatory assessments to the state.
Contact Piscataway NJ Marijuana Attorney for a Free Consultation
When it comes to the amount of marijuana in regard to simple possession, NJ law does not differentiate the difference between a roach and an ounce. New Jersey courts will judge each instance in the same way under NJ possession of marijuana laws. Similar to all drug charges, marijuana charges are very complicated. Suppression issues can arise in your favor that will challenge the probable cause of the traffic stop, search and seizure violations, incriminating statements, and scientific testing of any substance confiscated. Our attorneys have wide experience in addressing these very issues and successfully arguing and suppressing illegally obtained evidence. We represent clients for possession of marijuana throughout Middlesex County and New Jersey including South Brunswick, East Brunswick, South Plainfield, Old Bridge, and Sayreville. If you would like to speak with an experienced marijuana defense attorney, contact our office today at (732) 659-9600 for a free consultation.