Middlesex County NJ Heroin Lawyer
Heroin Defense Attorneys in New Brunswick, New Jersey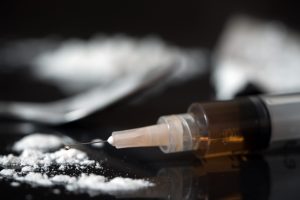 Heroin has become increasingly prevalent throughout New Jersey and the United States. A majority within the legal community agree that the increase in heroin use is directly attributable to the easy accessibility of highly addictive prescription opiates such as Oxycontin and Vicodin. When individuals take powerful prescription painkillers, whether prescribed by a doctor after surgery or an injury or given to them at a party or by a friend, they can quickly become hooked. In fact, heroin and other opioids are so strong that people at any age can become addicted before even realizing what happened. After using prescription opioids, heroin is often the next step because it represents a cheaper, more accessible alternative. Buying heroin on the street is much less expensive than attempting to access Oxycontin with an ongoing prescription. The issue with heroin is, there is no monitoring for purity and many people suffer overdoses because the drug has been laced with another substance, such as the synthetic opioid Fentanyl. In order to meet the new wave of heroin use and addiction head on, courts and law enforcement have taken a tough stance against heroin charges on the state and federal levels. As a result, possession of any amount of heroin in New Jersey is a third degree crime under NJSA 2C:35-10. If you are is convicted of heroin possession  you may be sentenced to up to 5 years in state prison, thousands in fines, and you will have a felony on your criminal record. At The Law Offices of Proetta & Oliver, our practice is largely dedicated to defending individuals for criminal and municipal court charges and we have represented clients charged with heroin possession and distribution throughout New Jersey. If you have been charged with possession of heroin in New Brunswick, Woodbridge, Edison, Piscataway, Plainsboro, Sayreville, Old Bridge, or elsewhere in Middlesex County, it is important that you retain an experienced criminal defense lawyer. If you would like to speak with a heroin defense attorney free of charge, please contact our Edison office at (732) 659-9600.
Possession of Heroin in New Jersey
The statute enumerating the penalties resulting from the possession of heroin, along with other "hard" drugs (N.J.S.A. 2C:35-10) is listed below, in pertinent part, for your convenience.
a. It is unlawful for any person, knowingly or purposely, to obtain, or to possess, actually or constructively, a controlled dangerous substance or controlled substance analog, unless the substance was obtained directly, or pursuant to a valid prescription or order form from a practitioner, while acting in the course of his professional practice, or except as otherwise authorized by P.L.1970, c.226. Any person who violates this section with respect to:
(1) A controlled dangerous substance, or its analog, classified in Schedule I, II, III or IV other than those specifically covered in this section, is guilty of a crime of the third degree except that, notwithstanding the provisions of subsection b. of N.J.S.A. 2C:43-3, a fine of up to $ 35,000.00 may be imposed;
Penalties for NJ Heroin Possession Charges
Heroin is classified as a Schedule I Controlled Dangerous Substance in New Jersey, meaning it has been recognized as having a high potential for abuse and no current accepted medical use in treatment in the U.S. As a result, possession of heroin is a third degree indictable crime. If convicted of heroin possession, you will face 3 – 5 years in prison along with other potential punishments that include court-order supervision, drug testing, community service, probation, suspension of your driver license, and thousands in fines. In fact, those convicted of heroin possession may be forced to pay fines amounting to $35,000 in certain cases. Moreover, there are additional penalties if the heroin offense occurred within 500 feet of Public Park or Housing or in School Zone. Lastly, if the State believes you had Intent to Distribute Heroin you may be charged with heroin distribution. Often, prosecutors will use other factors to upgrade a drug possession charge to distribution, including the presence of large sums of cash, the fact that the heroin was divided into small baggies or labeled, or items used in drug packaging were seized such as scales or cutting agents.
Contact a Sayreville NJ Possession of Heroin Lawyer for a Free Consultation
Heroin charges can be very complicated to handle successfully. Often, there are issues that must be litigated by an experienced criminal lawyer. These can include issues such as "constructive possession" or suppression concerns such as inadequate probable cause or an illegal search and seizure. As founding attorney, Will Proetta has handled a vast number of criminal and municipal court cases, many of which involve heroin charges. We work diligently with the Middlesex County Prosecutor's Office in securing admittance into Pre-Trial Intervention to avoid a record, obtaining a waiver into Drug Court to avoid state prison, or work out a downgrade and remand. If you would like to learn more about how we can help you build a defense strategy customized to the facts of your case to meet your needs, please contact our office to schedule a free initial consultation with a Middlesex County heroin lawyer at (732) 659-9600.