Edison NJ Certain Persons Charges Defense Lawyer
Weapons Possession Attorneys in Middlesex County, New Jersey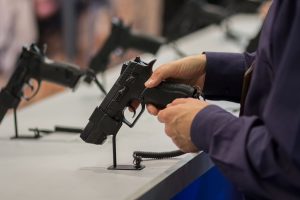 While many people in New Jersey can legally obtain a firearm by applying for a firearms purchaser ID card, many others are barred from possessing any kind of deadly weapon under any circumstances. As a general rule, an individual convicted of a violent crime is prohibited from gun or weapons ownership in NJ. The certain persons offense should not be confused with unlawful possession of weapons because the offenses are separate, and, in fact, a person can be convicted of each offense for possession of the same weapon. Essentially, a convicted felon who is caught in possession of a handgun may face criminal charges for both unlawful possession of a weapon and a certain persons offense for being ineligible to own a firearm in the first place. New Jersey takes all gun crimes extremely seriously, as most are punishable by mandatory incarceration. An experienced criminal defense attorney can help you to navigate the court system and challenge the State's case against you in an effort to substantially downgrade your charges or even have them dismissed altogether.
William A. Proetta, our firm's founding lawyer, has defended clients against a wide array of criminal charges, including many weapons offenses throughout New Jersey. Our lawyers understand what it takes to successfully fight a weapons case and we regularly put this knowledge to work on behalf of clients in New Brunswick, Old Bridge, South Plainfield, Perth Amboy, and throughout Middlesex County. To learn more about how we can help you build a case strategy customized to meet your needs, contact us today at (732) 659-9600 for a free consultation with an experienced weapons defense lawyer.
N.J.S.A. 2C:39-7b Certain Persons Not to Have Weapons in New Jersey
The crime of Certain Persons refers to a category of individuals, whom either from a previous felony conviction or mental disorder, are not allowed to legally possess weapons or firearms in New Jersey. The conviction of any of the following offenses causes this section to become effective: aggravated assault, arson, burglary, escape, extortion, homicide, kidnapping, robbery, aggravated sexual assault or sexual assault, bias intimidation, endangering the welfare of a child, possession of a prohibited weapon or prohibited device or the offense of possession of a weapon for an unlawful purpose or the offense of manufacture, transport disposition and defacement of weapons, or conviction of unlawful use or possession or sale of a controlled dangerous substance (excluding a disorderly or petty disorderly substance offense). The conviction does not have to be in New Jersey; in fact, our state counts convictions from any state, territory, commonwealth or other jurisdiction of the United States or any country of the world in a court of competent jurisdiction of a crime which in that jurisdiction is comparable to one of the enumerated offenses.
Certain Person for Mental Disorder vs. Convicted Felon
A prior conviction of the previously enumerated felonies bars an individual from obtaining or owning a firearm or weapon. In contrast, in order for the mental disorder to be a bar to the possession of a weapon, the person must have been committed for the mental disorder to any hospital, mental institution or sanitarium. The law does not differentiate between a voluntary or involuntary commitment. Moreover, a person who previously suffered from a mental disorder can be allowed to lawfully purchase and possess weapons and firearms again with a certificate from a medical doctor or licensed psychiatrist licensed stating that the patient has been successfully treated.
Certain Person Convicted of Domestic Violence
It is a third degree crime for a person who has been convicted of a disorderly persons offense involving domestic violence in New Jersey or elsewhere to purchase, own, possess or control a firearm. The offense is applicable regardless of whether the underlying domestic violence offense involved a weapon. It is also a third degree crime to purchase or possess a firearm when undergoing a domestic violence proceeding and any firearms under the owner's control have not been returned or the court has an order prohibiting possession. As mentioned earlier, it is a second degree charge if you are found in possession of a firearm and you have been convicted of a felony crime involving domestic violence.
Penalties for an NJ Certain Persons Offense
It is a crime of the fourth degree for individuals who have been convicted of any felony listed above or who have a diagnosed history of mental disorders to purchase, own, possess or control a weapon. Additionally, the New Jersey State Legislature broadened the Graves Act to encompass these fourth degree certain persons offenses that pertain to weapons other than firearms.
It is a second degree crime to possess a firearm with previous convictions of any of the specified crimes listed above, with the additions of stalking and domestic violence. Upon conviction of this second degree crime, the court must impose a mandatory minimum five year prison term during which time they will be ineligible for parole. In contrast, the second degree offense does not apply to individuals with a history of mental disorders.
What Constitutes a "Weapon" in New Jersey?
The most obvious weapons encompassed in this statute are firearms. However, there is some ambiguity in interpreting the scope of this section as to what other weapons are in fact included. It has been held that weapon means anything that is readily capable of lethal use or of inflicting serious bodily injury. For purposes of this section, when an object is capable of injury, whether innocent or unlawful, the circumstances of its possession may be considered. More particularly the size, shape, and condition of the object, whether it was concealed, and the time, place and actions of the carrier are material circumstances in determining when the particular implement constitutes a weapon.
Speak with an Old Bridge NJ Certain Persons Weapons Attorney Today
For obvious reasons, certain persons not to have weapons charges are often complex and time consuming. However, these cases can often be the result of a misunderstanding or simple ignorance of the law. We help clients fight certain persons offense charges throughout Middlesex County and New Jersey, including in Woodbridge, East Brunswick, Spotswood, Old Bridge, Sayreville, Jamesburg, Metuchen, and Dunellen. Contact our office in Edison today at (732) 659-9600 to speak with a weapons defense attorney free of charge during an initial consultation.